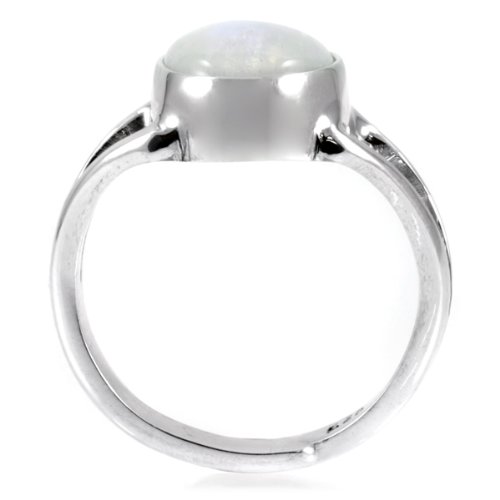 Bella's Moonstone Ring – Twilight Replica
This is a sterling silver replica ring worn by Bella in the movie Twilight. This beautiful piece is designed exactly like Bella's Ring. The bevel setting rises the perfect amount, allowing your eye to lead directly to the center point of this ring: the moonstone.
The moonstone is smooth and reflects blue under direct light! It's also perfect in size, not to big, and not too small. Probably one of the most important things: it's oval! Yes, there are a lot of replicas out there that aren't oval shaped. Many Twilight replica rings contain a round moonstone. You will see a lot of round moonstones in the mall and online instead of the oval shaped moonstones.  The moonstone on this ring is very close to the actual size of Bella's moonstone ring in the movie.
However, there are a few differences.
The Bella Moonstone Ring
has an adjustable band. Not something you'd expect from a ring of this size, but it is very elegant! Also note that you can wear this on any finger.
This is just a beautiful piece for fans, and non-fans of the movie. For fans of the Twilight series, this ring can be worn discretely and other fans will notice! For everyone else, this ring is simply fashionable. The Bella moonstone ring definitely stands out on its own.